ATV / UTV Adventures
Take it Outside
There are over 100 miles of ATV/UTV trails in the Mercer area. Mercer's trails connect with other Iron County trails to form the largest All-Terrain Vehicle trail system in Wisconsin, with over 250 miles of adventurous trails.
Whether touring on your ATV or UTV, you will find our trails offer year-round scenic views of nature, wildlife, lakes and waterfalls. The trails wind through the forests and varying terrain ranging from smooth flat surfaces to rocky terrain, and of course mud too!
Mercer Area has
0

miles

of ATV / UTV Trails
Connects to the
0

mile

Iron County Trail System
IRON COUNTY
ATV / UTV Trails are Open
Enjoy the season and ride safe!!
The Iron County Forest is open for ATV/UTV adventure in all four seasons. Typically, the ATV/UTV trails are open from mid-May through March 31 or when the trails close for the winter season. In the winter, ATVs and UTVs are allowed on the trails when the temperature is 32 degrees or colder. Winter trails are available through the cooperation of the White Thunder Riders and the Mercer Sno Goers.
Things to know and tips to be aware of:
Waterfall viewing and scenic overlooks
Day parking for trailers is available near the railroad grade in downtown Mercer off Trail 17

All children under the age of 18 must have a minimum DOT Standard motorcycle or ATV helmet. Bicycle helmets are NOT legal.

Visit GoWild.wi.gov for information on regulations, licenses and trail passes.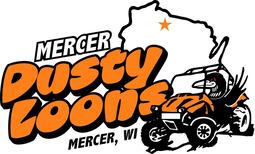 FEATURED EVENT : October 5-8, 2023
Pumpkin Run ATV/UTV Rally
This event includes a three-day poker run, ATV, UTV and lawn tractor pulls, the Great Pumpkin Parade through downtown Mercer, and a pumpkin party on Saturday night.