Skiing & Snowshoe
Slide & Glide
Mercer is a cool place to be in the Winter! Gear up for an exhilarating winter trip.
Enjoy winter family fun in Mercer, where there is something for all ages to experience. Experience the Mecca Trails near Mercer, with the rolling terrain, vistas of the Little Turtle River & Flowage and a variety of vegetation from aspen to pine plantation. They offer an annual moonlight (candle lit) ski.
Cross-Country Skiing & Snowshoeing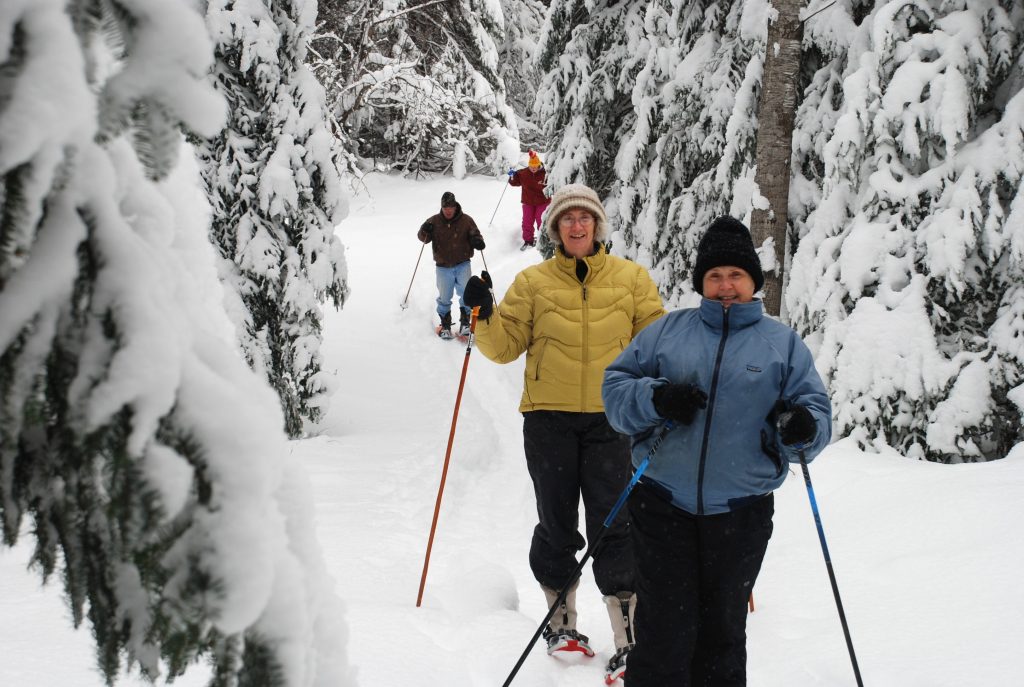 MECCA Trails
MECCA Trails offer 21 km of groomed cross-country skiing on rolling terrain and 3 miles of snowshoe or winter hiking trails.  The cabin trailhead south of Mercer has a beautiful wood heated log chalet, changing room and outdoor toilets. Located at 4686N Fierick Rd, it's open from 8 am-6pm.  The Little Turtle trailhead is north of Mercer off Joe's Shack Road.  More information and trail reports are on their web site.
Visit meccatrails.com
MECCA Trails Report
Groomers were out Tuesday morning combing the skate lanes. Tracks were holding nicely. Spring skiing conditions mean soft surface when daytime temps are warm and it can be fast and icy in the morning if it drops below freezing at night.
WinMan Trails
WinMan Trails is located just east of Mercer, at the intersection of Hwy J and Hwy W in Winchester. Cross-country skiing (classic and skate), snowshoeing, and single-track fat biking are offered in winter. A heated chalet has bathrooms, changing rooms, a Great Room with kitchen, wood-fired furnace, pizza oven and plenty of seating.
Visit WinManTrails.com
WinMan Trails
Ski and fat bike trails are amazing right now. Get out and enjoy the trails today if possible.
Ski Trails are OPEN for Skate and Classic Skiing.
Conditions are very good right now throughout the system but will start to be impacted late today and through the end of the week with increasing temperatures.
Fat Tire Biking Trails are OPEN today but will CLOSE on Wednesday at noon due to high temperatures
Conditions are still very good. We will be closing the trails temporarily on Wednesday afternoon to try to preserve riding for a few more days.
Snowshoe Trails are OPEN
Snowshoeing remains very good throughout the trail system.
North Lakeland Discovery Center
The North Lakeland Discovery Center is located o Hwy W in Manitowish Waters. Enjoy skiing, snowshoeing and wildlife watching along the 12-mile trail system. The trails are open to everyone, from dawn to dusk.  Trails are tracked for classic skiing. Snowshoes are available for use. Members may use the snowshoes for free, general public pay $5 per pair. Leashed dogs allowed on snowshoe trail only. November through April, depending on weather, you can hike, fat bike, snowshoe or cross-country ski.
Visit DiscoveryCenter.net
North Lakeland Discovery Center Report
Our trails are open! Our groomer was out on Tuesday, 1/25/22 and all trails have been rolled and/or tracked and are in good winter condition at this time. Happy trails!
We have snowshoes available on site, first come - first served, during open office hours. They are free to Discovery Center members and are $5 per pair for non-members.
Please keep in mind when visiting groomed trails that we do not allow walking/hiking on our groomed trails. Snowshoeing can occur on any trail, we just ask that folks stay to the side of the groomed ski tracks. Pets must be kept on a leash at all times and please pick up after them (no one likes poop on their skis or snowshoes, and Ryan doesn't like it on the groomer either)- so please be a responsible pet owner!
We recommend the blue River Trail for snowshoeing, or walking with dogs. We do not track this trail for skiing (we do roll it, we just don't track it). Parking is available at the Tower Road parking area for easy access to this trail.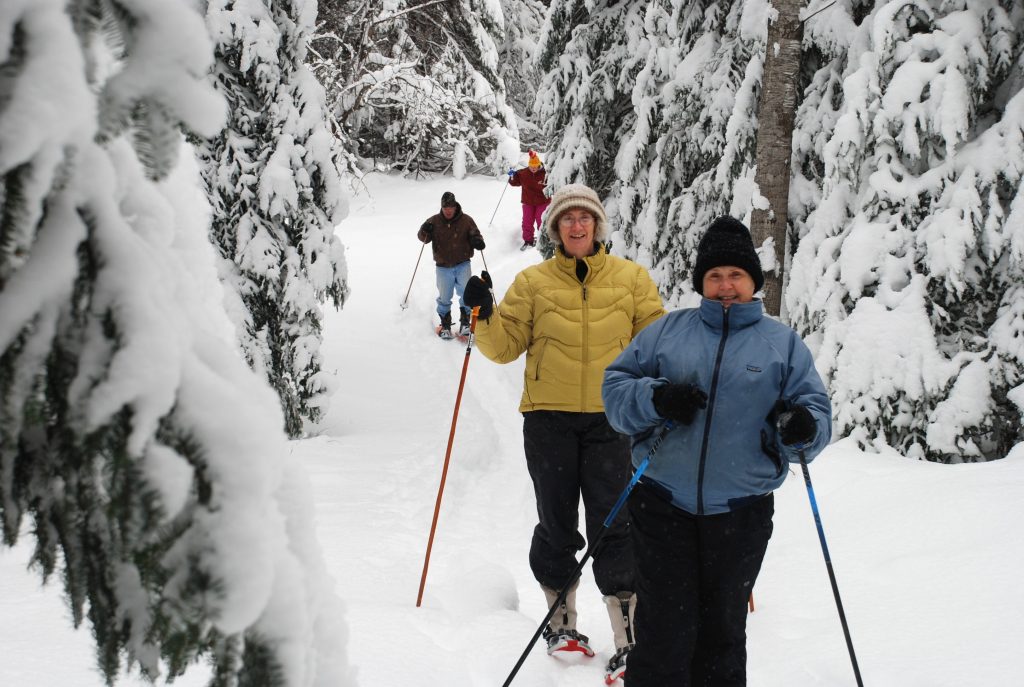 Schomberg Park
Schomberg Park has 2 loops totaling 2.7 km of easy terrain. Schomberg Park is located at 9701N Hwy 51, 13 miles north of downtown Mercer. Parking is available off of Hwy 51 at the south parking lot entrance.
Visit IronCountyForest.org
Whitecap Mountains Resort
Discover three mountains with 43 trails for every ability, spread over a vast 400 acres within the ancient Penokee Mountains. Whitecap Mountains Resort is just 35 miles north of Mercer, in Upson. Experience an abundance of lake effect snow, meticulously groomed trails for skiing and snowboarding, as well as dining and lodging. Rentals and lessons available.
Visit WhiteCapResort.com
FEATURED EVENT
MECCA TRAILS WINTERFEST
Join us for MECCA Trails Winterfest, a virtual event with three ski races and a snowshoe tour December 18, 2021 - February 28, 2022. Turtle River Pursuit 11K Classic and 11K Skate Combined Time individual and team divisions. Flowage 15K Freestyle Showcases the trails through forests and the Little Turtle Wildlife Area out to Voss Lake. Claire d' Loon 5K A great race for kids, families and first time racers. The race winds through the forests around the chalet. Mercer Springs Snowshoe Tour Three miles of looped trails including the new Mercer Springs Trail and the Klondike Trail.